Administration Premissions for Multiple Users
IPitomy's new flexible administration permissions feature allows administrators to set up users and groups of users that are granted permission to access certain features and functions in the VoIP PBX system. Groups are created to define a range of access to specific areas of the PBX. Users assigned to this group will be able to modify only the areas they have been granted permission to access.
The IPitomy VoIP IP PBX system has a vast range of features and programming options. It is useful to have more than one user accessing the system to make changes to extensions, menus, groups or other areas. To reduce the training requirements and reduce the chance of an inadvertent change, each user or group of users can be limited in what they have access to.
For instance, if a user is responsible for changing the greeting during a weather event, they can be assigned a password and user name that would only allow access to the automated attendant menus. The access can be limited to a range of menus or a single menu. The user simply logs into the PBX administration portal, selects the menu they wish to change, and selects the appropriate prerecorded prompt. When a need arises like a closing due to weather, the responsible person can easily change the automated attendant greeting announcement remotely.
Modifying extensions is similar. Users can be provided access to create, delete or modify extensions. If there is a user who is responsible for changing names on extensions when a new employee is hired, they can be allowed access only to a range of extension numbers and have the ability to modify those specific extensions.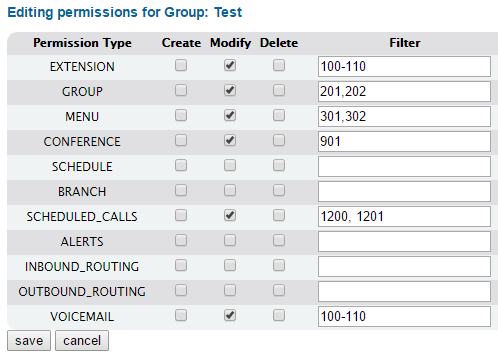 As you can see in the menu above, users and groups of users can be given permission for a whole range of administration options while not having access to areas that they may not have the proper training and skills to modify.
The permission levels are very flexible and allow for a technician to retain control over key administration functions. Permissions can be allowed to users that provide the convenience of administrating important functions while not risking the system integrity.
IPitomy's powerful system administration features are another example of IPitomy delivering ongoing support and functionality to our customers.