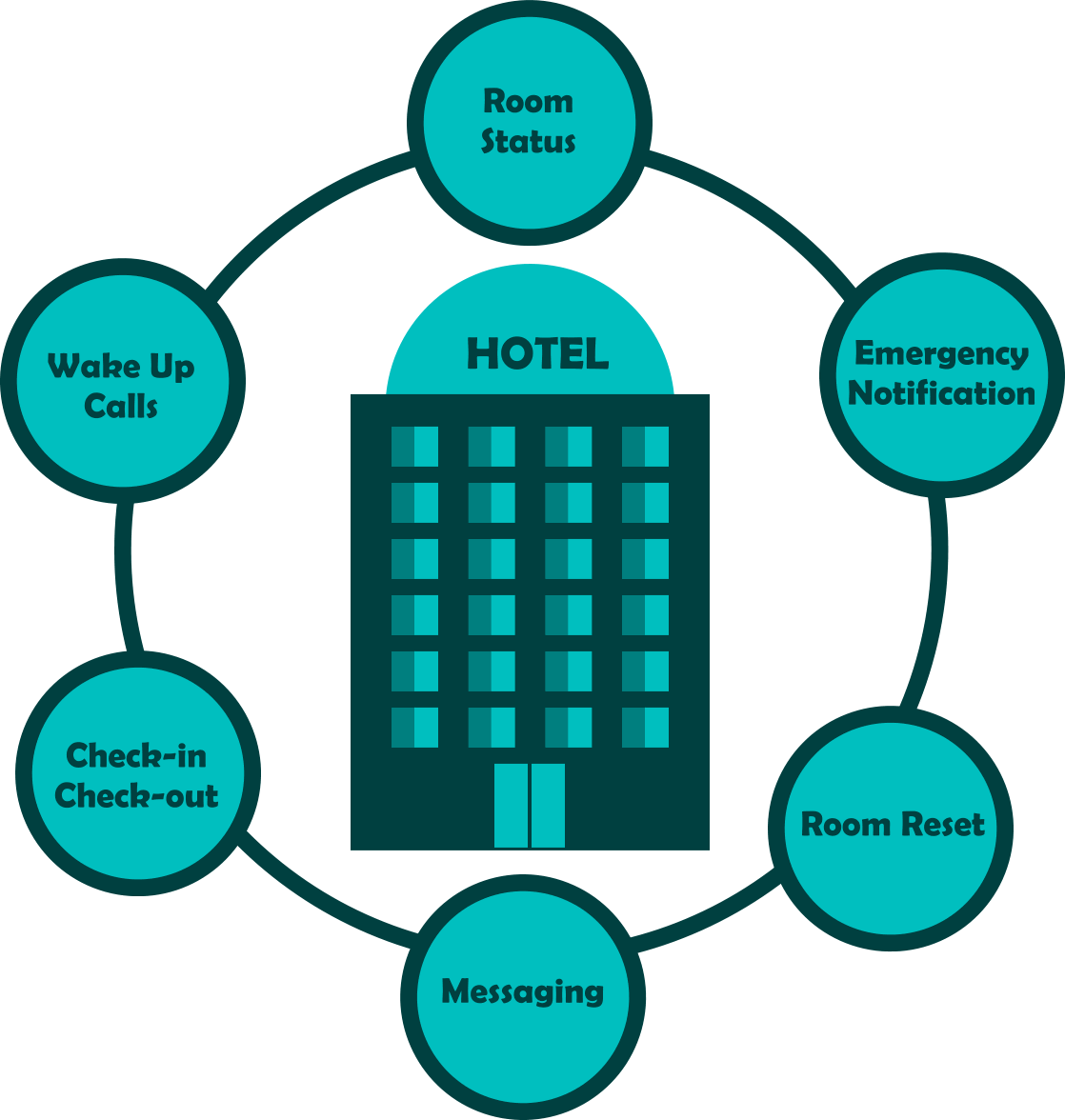 IPitomy Introduces an Affordable Hotel - Motel Application.
Hotel Motel applications can be very expensive. IPitomy has developed an inexpensive Hospitality application that provides features and benefits that meet the needs of hospitality establishments without breaking the bank. Our current solution requires the use of a third-party program that does a great job integrating with the PMS software for many hotels. As the industry matures, it is clear that the requirements are changing in this business model.
Easy Room Management - Hospitality applications benefit from an interface for important features like wakeup calls, clean room/dirty room and maintenance alerts. With IPitomy Room Manager, allowing the hotel staff to update room status from a room phone. Changing the status form dirty to cleaned is simple and easy, requiring very little training. Check in and check out are easy using a simple web page on the existing reception workstation. Setting a wakeup call is easy too for the hotel staff as well as the hotel guest. The hotel staff can see at a glance if a room is ready and if there are any maintenance alarms that may require attention prior to the room being back in inventory.

Reduce Costs - Hotel management enjoys reduced costs by reusing existing room phones, reducing dial tone costs and simplifying training and procedures for room staff. Simplified procedures and training gets staff performing quickly and efficiently. Instead of choosing an expensive upgrade for aging PBX equipment, management enjoys a new PBX system for about the same cost as upgrading the old PBX with the hotel application included.

SIP Trunking - SIP trunking reduces the cost of dial tone for all customers across the board. The adoption rate of mobile phones has changed the way people call from hotel rooms. Guests are far more likely to use a mobile phone from their room than use the room phone. This has dramatically reduced the calls from room phones and eliminated the requirements on billing for phone calls in many instances. The costs have been reduced to such a point that many managers are taking a second look at how they view calls from room phones

More Capacity - At IPitomy, we know what is important to your customers. The phone system is a revenue engine. Without phones, sales can come to a complete stop. IPitomy SIP trunks are designed to bring massive capacity to businesses so all SIP trunks get a more than adequate amount of concurrent call capacity assuring you never get a busy signal.

Cost - IPitomy SIP trunks come in packages that simply cannot be matched by our competition. Most customers see savings of 50% per month over traditional phone service.

Any Brand PBX – Regardless of the brand of PBX system you have now, IPitomy can always provide SIP Trunking services that can reduce the cost of phone service.

Quality - SIP Trunks are only a good deal if the quality is superior. Each IPitomy VoIP call has crystal clear audio. Routing over our VoIP network provides fast connections with quick and easy setup and support. Nobody does it better.