IPitomy Communications Awarded 2021 Unified Communications Excellence Award from INTERNET TELEPHONY
IPitomy Family of Hosted and Premise UC Applications Recognized for excellence
and quality in delivering unified communications solutions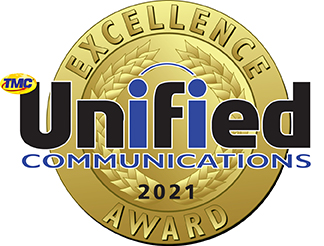 Sarasota, Florida, March 16, 2022 — IPitomy Communications announced today that TMC, a global, integrated media company, has named the IPitomy Family of Hosted and Premise UC Applications as a recipient of the 2021 Unified Communications Excellence Award presented by TMC's INTERNET TELEPHONY magazine.
"IPitomy VoIP Services are the perfect complement to IPitomy's cloud based and premise based Unified Communications systems" States Tom Judkins, IPitomy's Sales Manager, "Having all the bases covered on Cloud, Premise and SIP Trunking provides a valuable advantage to our customers who can enjoy the total confidence of one provider with a unified services and product portfolio."
"It gives me great pleasure to present IPitomy Communication with a Unified Communications Excellence Award for their IPitomy Family of Hosted and Premise UC Application solutions and their team's commitment to addressing the real needs of the marketplace," said Rich Tehrani, CEO, TMC. "It's inspiring to see such commitment to excellence and I look forward to seeing future innovation from IPitomy."
About IPitomy
IPitomy Communications is a premier developer of pure VoIP Unified Communications Solutions for hosted and premise based applications. As a full-service VoIP/SIP Provider, IPitomy has a global VoIP network bringing high quality dial tone to customers with innovative pricing and packages. IPitomy adds depth and functionality to UC applications with advanced features such as Desktop QManager, ACD/Call Center, Call Recording and applications for education and hospitality.
https://www.ipitomy.com.

FOR IMMEDIATE RELEASE
IPitomy Communications Contact:
Nick Branica
CEO
941-306-2200
This email address is being protected from spambots. You need JavaScript enabled to view it.
###