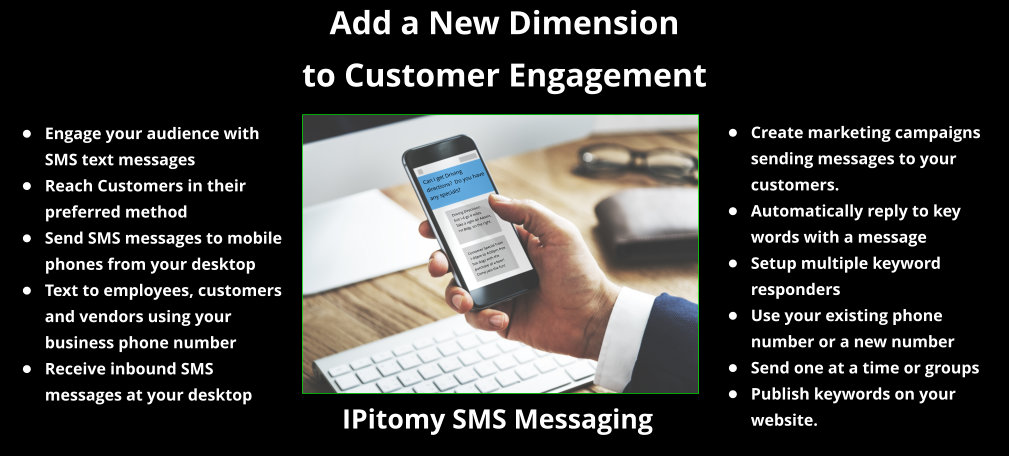 SMS Messaging
Add SMS messaging to increase your engagement with your customers. IPitomy SMS allows you to text from your desktop to employees or customers in the field. Expand your capabilities with IPitomy SMS-BOT, automating responses to SMS messages.
HIGHER OPEN RATE THAN EMAIL - Studies suggest more than 95% of text messages are read within five minutes of receipt. That is far faster than email. Not only that, but when a customer, employee or vendor reads your text message, they are engaged on your business.
ADD A NEW DIMENSION TO MARKETING - Marketing has evolved over the years. Now Facebook, Google and online advertising have taken hold and are getting expensive.
LOW COST - SMS Messaging is very inexpensive. Invite web site visitors to text to your main telephone number. They will be impressed.
CONNECT WITH THE RIGHT PERSON - Texting direct to a mobile phone is personal. You are speaking directly to them from your business..
OPPORTUNITY - When you engage more people, your opportunities for growth expand. SMS adds that extra dimension
FAST DELIVERY - Because text mesages are delivered directly to the recipient, the message gets there faster than most other marketing messages.
CUSTOMERS OPT IN - When customers opt in for your messages, you know they are interested in your products or services.
CUSTOMERS CAN OPT OUT - IPitmy SMS Messaging has opt out options for customers. If they opt out, they will no longer receive text messages.
Usage Examples
Service Businesses:
Communicate with employees in the field. Plumbers, Pest Control companies and other organizations benefit from direct text messaging from management to the field. When the responsible person at headquarters can do this from their desk, it makes connecting much easier. Texts messages are sent with a full sized keyboard.
Bars and Restaurants:
Create loyal cusomers by sending messages with coupons. Provide driving directions. Auto Respond to specific key words such as "Menu" "Pizza" etc. Have spontaneous happy hours during off hours.
General Businesses:
Use text messages to promote your business and engage visitors to your web site. Add SMS messaging to your business operations and leverage this important communication modality.
Text to anyone from your desktop:
You can send messages to any cell phone. Marketing campaigns require Opt In.