IPitomy Call Center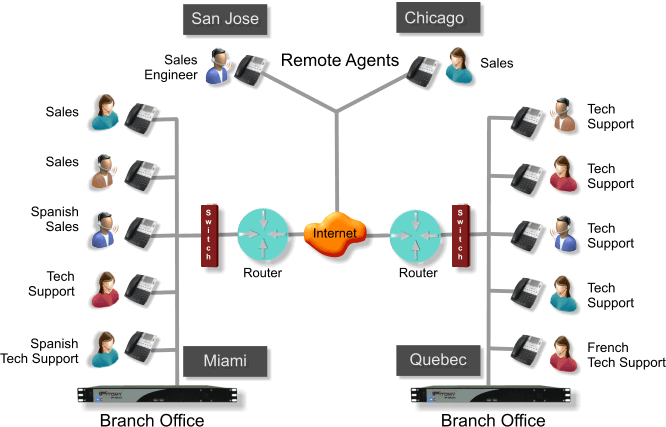 2
IPitomy's ACD leverages all the advantages of IP to maximize user productivity and ensure callers experience the ultimate in customer service … both of which translate into improved business performance and an optimal ROI.

Coupled with simple and intuitive administration and user defined features, IPitomy's ACD is flexible enough to support the sophisticated applications necessary for streamlined, efficient and cost effective call handling:

Virtual Call Centers – utilize the best agents regardless of where they are at home or in different geographic or branch office locations

Skills-Based Routing – match the caller's needs to the available agent best suited to handle the call

Multiple Queue Assignments – increase productivity and capacity by equipping agents with the information they need to effectively handle a variety of call types

Overflow & Load Balancing – respond to fluctuations in call volume by automatically enlisting additional agents or groups when user-defined thresholds are breached

IPitomy Call Manager

- Agents and supervisors are aware of call center activity at all times. Powerful coaching and recording features are available for state of the art performance and adherence to regulatory requirements.

IP ADVANTAGES IN THE CALL CENTER

IPitomy's IP PBX with ACD makes the most of all that an open-standards, IP-based platform has to offer, including full support of affordable SIP-based trunking as well as traditional PSTN services. Among the benefits of implementing IPitomy's IP PBX with ACD:

Lower operating costs through
- Resource optimization
- Best agents regardless of location
- 'Follow-the-sun' coverage
- Centralized management
- Reduced network and toll costs
- No monthly fee associated with hosted/managed solutions
- Enhanced flexibility & scalability

Simplified, easily accessible administration
- Browser-based
- Survivability

IPitomy's open-standards based solution offers protection against obsolescence and enterprise-grade features at a fraction of the cost.IPitomy's support for SIP trunking means your business can take full advantage of lower cost telecommunications services and increased bandwidth.
| | | |
| --- | --- | --- |
| Call Queues | | |
| Unlimited Call Queues | Yes | Yes |
| In Queue Call Routing | No | Yes |
| Route When a Queued Caller Presses Any Digit | No | Yes |
| Queue Caller Timeout | No | Yes |
| Queue Member Circuit Limit | No | Yes |
| Route When Max Queue Length Reached | No | Yes |
| Route When No Members Logged In | No | Yes |
| Custom Music on Hold Per Queue | No | Yes |
| Invisible Queues | No | Yes |
| Members Never Busy | No | Yes |
| Announce Position in Queue | No | Yes |
| Announce Estimated Hold Time | No | Yes |
| Announcement Frequency Control | No | Yes |
| Log-in Queue Members | No | Yes |
| Permanent Queue Members | No | Yes |
| Real Time Queue Status | No | Yes |
| Historical Queue Logs | No | Yes |
| Historical Queue Statistics | No | Yes |
| Route When Queue Empty | No | Yes |
| Acknowledge Call | Yes | Yes |
| Queue Member Presence | Yes | Yes |
| Ring Strategies: | Yes | Yes |
| - Ring All | Yes | Yes |
| - Round Robin | Yes | Yes |
| - Fewest Calls | Yes | Yes |
| - Least Recently Called | Yes | Yes |
| - Random | Yes | Yes |
| Queue Specific Music on Hold | Yes | Yes |
| Unlimited Voice IVR Menus | Yes | Yes |
| Upload Pre Recorded Prompts and Messages | Yes | Yes |
| Agents | | |
| Agent Log In | No | Yes |
| Agent Log Off | No | Yes |
| Auto Log Off | No | Yes |
| Agent Only Extensions | No | Yes |
| One-touch Log in/Log off | No | Yes |
| WEB Based Administration | | |
| Administrator Controls | Yes | Yes |
| User Controls | Yes | Yes |
| Program Phones Remotely | Yes | Yes |
| Call Center Manager Control | Yes | Yes |
| Operator Call Control | Yes | Yes |
| Recording & Monitoring | | |
| Call Recording | Yes | Yes |
| Recording Stored in Mailbox Folder | Yes | Yes |
| Call Monitoring | Yes | Yes |
| Logging & Reporting | | |
| Current Calls | Yes | Yes |
| Call Logs | Yes | Yes |
| Call Reporting | Yes | Yes |
| Queue Status | No | Yes |
| Queue Reports | No | Yes |
| Custom Audio Recordings | | |
| Recording Voice Prompts | Yes | Yes |
| Multple Languages | Yes | Yes |
| Voice Prompts Yes | Yes | Yes |
| Business Hours and Schedules | | |
| Day/Night Schedule | Yes | Yes |
| Operator Can Force Day/Night Schedule | Yes | Yes |
| Routable Schedules | Yes | Yes |
| Schedules for Each DID | Yes | Yes |